Politics with a Punch
Hosted by Jeff Crouere
Politics with a Punch
Thursday, November 16, 2017
Eiffel Society, 2040 St. Charles Ave.
Co-Produced by BayouBuzz.com
Politics with a Punch is held monthly on stage before a live audience. It is our own local version of "Politically Incorrect." It is a fast-paced, free-wheeling, no-holds barred discussion of what is happening in our city, state and nation.
Join us for another unforgettable edition of Politics with a Punch. We place a premium on having a good time and expect plenty of laughs as we discuss the controversies and the outrageous antics of our local leaders and scoundrels.
Our next show takes place at the Eiffel Society, 2040 St. Charles Avenue, New Orleans. This is an outstanding venue that has recently been renovated and offers fabulous amenities. Convenient valet parking is offered to our patrons in front of this gorgeous venue.
Doors open at 6 p.m. for Happy Hour, networking and dinner. So be sure to come early to enjoy the delicious dining options prepared by the staff at the Eiffel Society. The show begins at 8 p.m.
As usual, we have picked an outstanding panel for our  2017 Election Celebration Thursday night with some of our favorite all-stars plus some exciting newcomers. This program will be another entertaining Politics with a Punch, a New Orleans Political Comedy Tradition. Check out the exceptional line-up of celebrities that have been selected for this special anniversary show:
Jay Batt, Chairman, Orleans Parish Republican Executive Committee  
Lambert Boissiere, III, Louisiana Public Service Commissioner, District 3
Mike Detilliler, Pro Football Analyst, Publisher of NFL Draft Report  
Alden Hagardorn, Actor; Entertainer, Tour De Force of Revelry 
Dominick Impastato, Councilman, Jefferson Parish District 4 
J.D. Sledge, Comedy Superstar; Local Headliner, Punch Favorite 
Jennifer Van Vrancken, Councilwoman, Jefferson Parish District 5
Tickets
Will Call
Tickets at the door are only $20.00 per person/$35.00 per couple.
Please RSVP by sending me an e-mail at jeff@ringsidepolitics.com with the number of people in your party as the tickets will be distributed on a first come, first serve basis.
Order eTickets in Advance
You can also purchase discount tickets ($15 per person/$25.00 per couple) in advance by selecting one of the options below.
Note: These tickets will not be shipped to you. They are eTickets and will be available at the door.
Please print the receipt that is sent to you be email and bring it with you.
Click the button below to purchase a Single ticket.
Use this option to purchase one or more single/individual tickets. You will be directed to the PayPal website to complete your purchase.
Click the button below to purchase "Couples" tickets.
Each "Couples" ticket purchase includes a pair (2) tickets.
You will be directed to the PayPal website to complete your purchase.
Thanks again for your support of Politics with a Punch. Without you and other friends, we could not have such successful events each and every month.
Hope to see you Thursday November 16!
Stay Tuned for More Information about Upcoming Shows in 2018!
Jeff Crouere
Host, Politics with a Punch
P.S. For sponsorship of the event and advertising opportunities, contact Jeff Crouere at #504-669-6076 or jeff@ringsidepolitics.com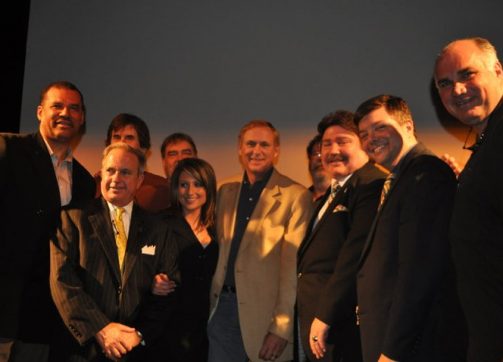 Politics with a Punch Panel March 31, 2011